06/28/2022
LASERTEC 100/160 PowerDrill
Efficient laser drilling for aerospace and gas industry
The new LASERTEC 100/160 PowerDrill offers maximum work envelope size in a small footprint for the production of turbine components such as guide vanes, blades and combustors.
New moving column concept
Constant rigidity and increased positioning accuracy
0.009 mm according to DIN ISO 10791-4
Optimized cooling concept
Water-cooled motors, linear guides and ball screws
Larger working range
X=1000 Y=1000 Z=1000 (LASERTEC 100 PowerDrill)
X=1600 Y=1000 Z=1000 (LASERTEC 160 PowerDrill)
Compact design
Space-saving fiber laser (9-23 kW) for reduced footprints (12.7 / 14.7 m²)
High dynamics
Linear drives for X/Y 90 m/min; 7m/s²
Highest flexibility
Different laser head kinematics and table variants
State-of-the-art features
Variable collimation, shoot-through detection, capacitive distance sensors, tool changer, automatic drill position detection, etc.
With the models of the LASERTEC PowerDrill series, DMG MORI has a fast and efficient solution for the production of cooling air holes in turbine components from the aerospace and industrial gas turbine (IGT) sector. The newly developed LASERTEC 100 PowerDrill and LASERTEC 160 PowerDrill mark a new milestone in this portfolio. While the two large LASERTEC PowerDrill models now feature extended traverse paths, DMG MORI has reduced their footprint. A new moving column concept and a space-saving fiber laser are the highlights of the two world premieres.
Since limited production space has a decisive influence on a company's manufacturing capacity, DMG MORI has developed the new LASERTEC 100/160 PowerDrill especially with a view to an optimal ratio between installation area and workspace size. The LASERTEC 100/160 PowerDrill sets new standards in 5-axis laser drilling. The new, modular moving column concept replaces the LASERTEC 80/130 PowerDrill and convinces by constant rigidity in the entire working area. Larger travels in X / Y / Z up to 1,600 x 1,000 x 1,000 mm with simultaneously reduced footprint (12.7 m² / 14.7 m²) offer maximum flexibility on the store floor.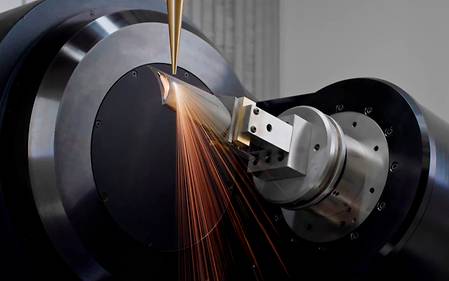 The modular axis concept, with swivel axis in the tool and rotary axis in the workpiece or alternatively with swivel rotary axis in the workpiece, offer the right kinematics for every application – especially in bucket and combustor machining. Depending on the application, the machines are available with 9 kW to 23 kW fiber lasers as well as the PowerShape machine version for shaped-hole machining. Linear drives in the X and Y axes also ensure high dynamics with an acceleration of 7 m/s² and rapid traverses of up to 90 m/min.
Laser drilling machine can achieve accuracies down to 9 µm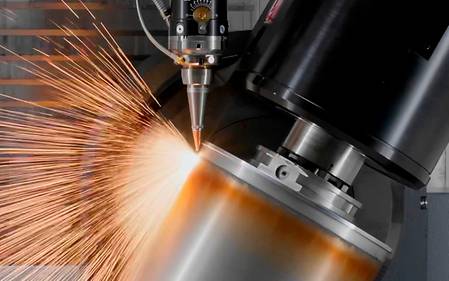 To meet the increasingly high accuracy requirements in the target industries, the LASERTEC 100/160 PowerDrill is based on a new moving column concept with movable X and Y axes. As a result, users benefit from constant rigidity throughout the entire working area. With variable collimation, the laser's focus size can be changed during processing without manual intervention. The LASERTEC 100/160 PowerDrill can be equipped with different fiber lasers depending on the application. In combination with the newly developed laser control, up to 500 drill holes per second can be produced.
The machine concept is technically designed in particular for laser drilling of components installed in aircraft engines, including turbine guide vanes and rotor blades as well as heat shields, combustion chambers and similar components. The Lasersoft PowerDrill software, which was developed in-house and has proven itself over many years, supports these tasks with a high level of user-friendliness and easy programming.
Beyond this groundbreaking equipment, the LASERTEC 100/160 PowerDrill has state-of-the-art components, including variable collimation, shot-through detection and a camera integrated into the laser optics. Other features such as capacitive distance sensors or an optional tool changer for different processing heads round off the range.
CELOS as well as the powerful and user-friendly CNC control SIEMENS 840D solutionline ensure maximum ease of use and highest process reliability for laser drilling of turbine components. All available LASERSOFT PowerDrill packages combine high-tech performance with absolute customer benefit and ensure application-oriented, simple programming and operation.