08/07/2023
EMO 2023 – Hall 2, Entrance North
DMG MORI City – the Home of Technology
At this year's EMO, DMG MORI is presenting the new Machining Transformation framework consisting of innovative technologies and solutions that will define the future of manufacturing. 
The world of machine tools will meet in Hanover from September 18 to 23, 2023. There, DMG MORI will be presenting its Home of Technology to the public in Hall 2. In a specially constructed "DMG MORI City", the machine tool manufacturer will be concentrating on its focus topic: Machining Transformation (MX). Based on the four MX pillars – Process Integration, Automation, Digital Transformation (DX) and Green Transformation (GX) – DMG MORI will demonstrate innovative technologies and solutions that will define the future of manufacturing. On forays through the approximately 9,000 m² DMG MORI City, guests will be able to see holistic production concepts and state-of-the-art machine tools in all fields of technology – from universal and production turning to 5-axis machining centers and turn & mill centers to additive manufacturing. Among the 39 machines and 21 automation solutions are world premieres such as the CTX beta 450 TC turn & mill center, the CTX 450 and CTX 550 universal lathes, and the INH 63, a horizontal 5-axis machining center. The PH Cell 800 pallet handling system and the AMR 2000, an autonomous robot for material and tool handling, complete the portfolio.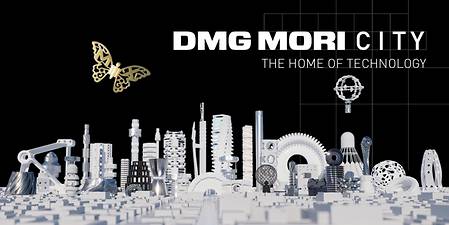 "Pioneering manufacturing solutions and innovative applications around the Machining Transformation are the foundation on which we have built the DMG MORI City," explains Irene Bader, Member of the Board Global Corporate Communication & Chief Marketing Officer of DMG MORI COMPANY LIMITED. In many places, the Machining Transformation is an elementary part of the cityscape: In MX Square, state-of-the-art machine tools, automation solutions and digital tools take center stage. MX Broadway is lined with innovative solutions that point the way to the future of manufacturing. Throughout the DMG MORI City, the theme of connectivity becomes tangible. All roads converge on Future Avenue: There DMG MORI presents its digital tools around the field of connectivity. Experts explain to customers how companies can network the entire manufacturing process.
Machining Transformation (MX): Revolution of manufacturing
With the Machining Transformation framework, DMG MORI provides an answer to the challenges of ever faster, more efficient and more sustainable manufacturing that every company has to face. DMG MORI supports its customers with a combination of four supporting pillars: Process Integration, Automation, Digital Transformation (DX) and Green Transformation (GX). Consistent alignment along this framework results in holistic products and services.
Integrated technologies and processes for maximum efficiency
Process integration is a part of the Machining Transformation that DMG MORI has been driving for decades. 5-axis simultaneous milling and turning operations in one workspace have sustainably optimized the machining of complex workpieces. Today, DMG MORI integrates other technologies such as grinding, gear milling, ULTRASONIC machining and additive manufacturing using powder nozzles. The advantages are obvious: shorter throughput times, higher machine capacities and better machining qualities. In DMG MORI City, the CTX beta 450 TC provides a good example of process integration.
More productive and more precise thanks to holistic automation solutions
Holistic and flexible automation solutions also play a significant role in the Machining Transformation. On the one hand, they increase productivity in manufacturing by maximizing machine utilization even in unmanned shifts. On the other hand, automated production ensures consistent component qualities. Modern automation solutions such as the PH Cell 800 and the AMR 2000 – both highly modular world premieres that will be demonstrated live at EMO – offer users maximum flexibility.
Generating competitive advantages with Digital Transformation (DX)
Like hardware, intelligent digitization is an integral part of Machining Transformation. Artificial Intelligence, Internet-of-Things, Big Data and Digital Twin are just a few focus topics that will significantly influence and optimize future processes. With the use of intelligent digitization products, DMG MORI offers its customers the opportunity to fully network and monitor their production. In this way, users can create competitive advantages and build new business models.
Green Transformation (GX) drives sustainability goals forward
As the fourth pillar of Machining Transformation, Green Transformation represents a way to achieve climate protection goals and compensate for rising energy prices. The guiding principle of the so-called DMG MORI GREEN ECONOMY comprises resource-saving machines (GREENMACHINE), energy-efficient machine operation (GREENMODE) and competence partnerships in the production of green technologies (GREENTECH). GREENMODE is based on a 13-point plan including pioneering technologies and innovative features that save machine tools more than 30 percent energy. DMG MORI will demonstrate these measures at EMO in a special GREENMODE PROMOTION AREA on several machine tools. Exemplary workpieces for GREENTECH, including a turbine for hydroelectric power plants and bipolar plates for energy storage systems, will also be on display.
With MX columns to more sustainability
There is a close connection between Machining Transformation and the topic of sustainability. This is because the areas of process integration, automation and Digital Transformation have a direct impact on Green Transformation. DMG MORI is presenting the way there at EMO, as Irene Bader sums up: "Cities are places of encounter and exchange. This is also the case with DMG MORI City, where we guide our customers and interested parties through the vibrant home of technology under the guiding theme of Machining Transformation."