06/02/2022
Mapal Kompetenzzentrum Spanntechnik
Competitive Prices thanks to Workpiece Handling
WTE Präzisonstechnik from Ehrenfriedersdorf started producing precision drill chucks in 1999 with just 12 employees. Since then the number has increased to 170 employees..
Continuous development and integration into the international MAPAL Group in 2008 have helped the company grow into a renowned partner for clamping technology. Today, MAPAL's clamping technology competence center relies on machine tools from DMG MORI, 17 machines in total. As recently as 2019 three new turning centers were installed to expand capacity: an NZX 2000 and an NLX 2500, which operates automatically via a gantry loader and an NLX 2000 with bar loader..
"The innovative clamping technology of WTE Präzisionstechnik was a decisive factor for its integration into the MAPAL Group", recalls Ralf Wackenhut, at the time of the interview Managing Director of WTE Präzisionstechnik GmbH, today head of the Digital Operations division at the headquarters of Mapal Group in Aalen:"This allowed us to complete the product portfolio and position ourselves as a full-service provider in the market." WTE Präzisionstechnik produces many different chucks, drill chucks and shrink fit chucks for both key MAPAL customers as well as for the trade. "On one hand this means production quantities for the trade are easy to plan and on the other we have to be able to respond flexibly to short lead-time orders directly from customers."
Intelligent processes are necessary for flexibility in production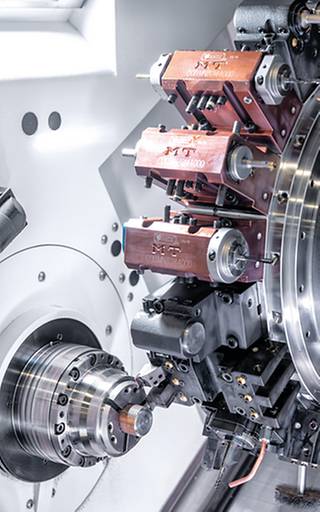 Ralf Wackenhut sees maintaining qualityoriented production, despite these flexible demands, as the main challenge: "Intelligent processes are the key", he claims. With machining centers and turning machines from DMG MORI, WTE Präzisionstechnik already achieves final contour dimensions to DIN standard of less than five μm when machining materials in their soft state. "Growth during hardening is calculated in such a way that post-processing is reduced to a minimum."
GX 10 T – Multiple machine operation and unmanned shifts thanks to modern automation solutions from DMG MORI 
Ralf Wackenhut sees additional process optimization in automation: "For the most part we produce batch sizes of 100 parts, so automated processes have a great rationalization effect, especially during unmanned shifts at night and the weekend." Multiple machine operation is also a key factor. The NZX 2000 and NLX 2500 purchased in 2019 are each equipped with a GX 10 T gantry loader, which both loads the machines and removes and deposits the finished parts. Workpiece dimensions of 2 times ø 200 × 150 mm, each gripper capable of carrying 10 kg, are ideal for our requirements. While the NZX 2000 with three turrets and three Y-axes machines the complex face of the body, the NLX 2500 is responsible for the comparatively faster machining of the taper at the rear. "To exploit free capacity to the full, we also use the two automated machines for high-precision finishing of workpieces from other machines." explains Ralf Wackenhut. All the operator has to do is push a magazine containing pre-machined workpieces into the automation system.
Where automation is concerned WTE Präzisionstechnik relies on standard machines and standard components. Thanks to the collaboration with DMG MORI, we get our machines and automation from a single source. Always perfectly coordinated: "Firstly the gantry loaders are quite simply proven and secondly this makes designing and procuring the systems easier."
This is also true of the NLX 2000 with bar loader: "The two gantry solutions are used exclusively for finishing pre-machined workpieces. We then have the option of machining parts from bar for the most part automatically on the smaller NLX 2000 with bar loader.
40 % reduction in throughput times due to turning and milling in one clamping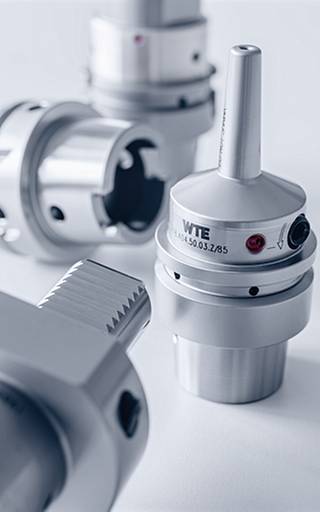 In view of the complex chucks that WTE Präzisionstechnik produces, the versatile machining options of the turning centers – i. e. turning and sophisticated milling operations in a single clamping – were decisive for Ralf Wackenhut. The direct-drive, powerful BMT turret rotates cutters at up to 10,000 rpm. "Formerly we needed several process steps on different machines for both front- and reverse-end machining. Achieving this on just two machines has led to a 40 % reduction in throughput times, which in turn has had a favorable impact on the speed of our response. Fewer clampings mean that rejects almost only occur due to tool wear. We could, of course, machine the workpieces completely on all 6 sides on the machines – however, we decided on a sequential process instead to ensure better utilization of machine capacity."
Ralf Wackenhut is optimistic that WTE Präzisionstechnik will continue to grow in the future: "We have sufficient space available and can find good skilled workers when we need them. Or we train them ourselves." The company takes on three to four trainees a year. "They include more and more women", says the managing director, clearly pleased with the interest shown by female applicants in technical professions.
Fit for the future – Additive manufacturing produces new products for tool clamping
Ralf Wackenhut also looks to the future where technology is concerned. "We see great potential in additive manufacturing", he says, with reference to the LASERTEC SLM machines from DMG MORI. One example of this is WTE Präzisionstechnik's innovative hydraulic clamping technology. Hydraulic chucks have internal channels in which oil is used to build up pressure to clamp the tool. The technology damps vibrations, ensures high concentricity and requires very low maintenance. The small hydraulic chucks cannot be produced by conventional methods due to the extremely fine channels: "There is no alternative to powder bed additive manufacturing in this case. That is why we contacted DMG MORI."
WTE Präzisionstechnik GmbH
Gewerbegebiet an der B95, 2a
09427 Ehrenfriedersdorf
Germany
www.wte-tools.de