04/13/2022
HAMILTON BONADUZ AG
With flexible Automation to combat Covid-19
Founded in 1966, Hamilton Bonaduz AG from Bonaduz in Switzerland is a leading global manufacturer in the life sciences sector.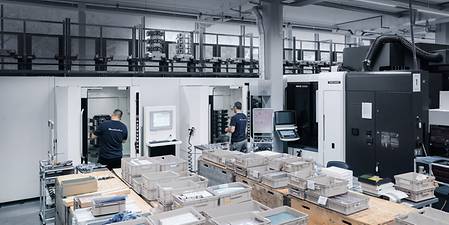 With 3,000 employees worldwide, 1,400 of whom work at the headquarters, the group develops and produces robots, sensors and software for industry and research as well as intelligent ventilators. In order to remain competitive in a high-wage country such as Switzerland, Hamilton relies on modern and efficient manufacturing technologies, including from DMG MORI. The company has been using machines from the manufacturer since the 1990s. The latest investment in plant clearly underlines the demands placed on productivity: an NHX 5000 with a rotary magazine for 21 pallets was installed at the beginning of 2020. This was followed recently by a second automated system comprising four NHX 5000s and a linear pallet pool for 78 pallets.
Equipment and consumables to combat the pandemic 
Like at many medical engineering companies, heavy demands were placed on Hamilton in 2020 during the COVID-19 pandemic. "Both our ventilators – which account for 50 % of our business – and our lab equipment are in great demand", says Patrik Caluori, Vice President of Manufacturing and Logistics at Hamilton. The robotic solutions can be used in many different analytical processes, from blood grouping to PCR testing for SARS-CoV-2. "We also supply an enormous quantity of the related consumables", he says, referring to the example of disposable pipettes that transfer microliters of liquids within the robotic equipment. Hamilton is continuously working on the further development of innovative solutions such as ventilators and pipette robots. Two new devices in the medical field are brought out every year as well as numerous modules for the robot platform. Patrik Caluori has his staff to thank to a great extent for enabling Hamilton to meet the high demand: "We had to introduce many safety measures to protect our staff – distancing, taking temperatures, working from home and permanent teams operating two production shifts." Motivated employees are the basis for the smooth running of processes, from development through to production.
NHX 5000: From rotary magazine through to LPP with 78 pallets 
Hamilton had already invested in recent years in machinery to expand its manufacturing capacity, including the five NHX 5000 machines from DMG MORI. In particular, this stand-alone machine with RPS 21 was soon running at full capacity due to the high production demand, explains Flavio Bass, Project Manager in the production department at Hamilton. The second automated production system with four NHX 5000 machines and a 78-pallet LPP was developed and installed by DMG MORI as a complex, digitized solution. The system has two setup stations and each machine is equipped with 360 workpiece stations. "Our goal is, of course, as much autonomous production as possible – even during unattended shifts at night and at the weekend," says Flavio Bass. The large number of pallets provides ample scope for producing one-offs as well as small batches autonomously and to the required quality.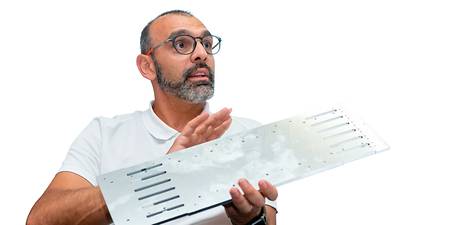 78 pallet spaces for multiple towers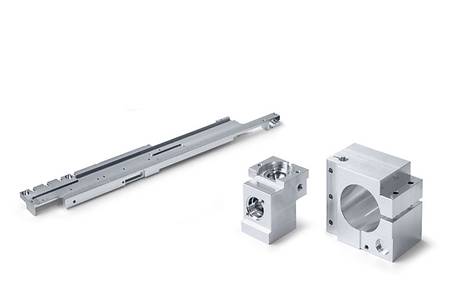 "Horizontal machining has the advantage that we can use four- or six-sided towers, which we can then load with several parts. As with the magazine for 360 tools, this reduces setup times", Christoph Senti, Head of Mechanical Engineering at Hamilton goes on to explain. "Many components have relatively short running times so constant tool replenishment would be very uneconomical. As a rule, we load the towers so that half the workpieces require a first operation and the other half require a second." Hamilton produces around 3,600 different components. Driven by innovations in production, their complexity and functionality are increasing. In addition, there are stringent demands on profile tolerances and surface quality.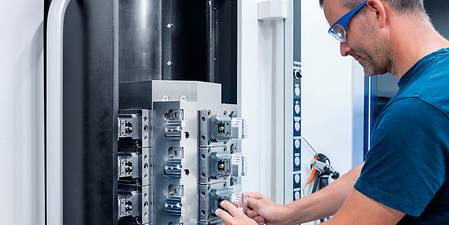 Real-time monitoring with DMG MORI Messenger 
With regard to software, Hamilton uses DMG MORI Messenger to monitor the operation of the five NHX 5000s in real-time. "It is especially practical, where automated production is concerned, if we can see on the office computer whether all machines are in operation or one has an unscheduled stoppage", says Flavio Bass. They are currently also considering the PRODUCTION PLANNING software, which would enable better organization of autonomous production.
Haimer: Tool holders and shrink fit devices from a single source 
Part of the DMG MORI turnkey solution involved products from Haimer, a leading manufacturer of shrink fit tooling technology and a DMQP partner of DMG MORI. "We use both the shrinking technology from Haimer as well as its tool holders", explains Flavio Bass when describing how they work with the products. The balancing process is also included. "Including automatic parameterization of the shrinking process." The uniform use of Haimer products protects the spindle, results in higher service life and ultimately achieves better surface quality. "We input all of the tool data with the help of the interface provided into the cell control (MCC-LPS)."
Two companies, one guiding principle – innovation and customer orientation
Patrik Caluori expresses his satisfaction with the DMG MORI collaboration following the installation of the two systems: "We are an early adopter of, and investor in, innovative technologies. At the same time we need customized system designs, as was the case with the four NHX 5000 machines." DMG MORI offers both innovative technologies as well as the necessary expertise to develop needsbased solutions. Hamilton has the same commitment to innovation and customer orientation – both as an OEM supplier and manufacturer of its own products as well as in the field of customized solutions. In view of the sustained growth of Hamilton, Patrik Caluori looks ahead optimistically: "In line with our requirements, we will continue to increase our capacity in the future with such competitive manufacturing solutions."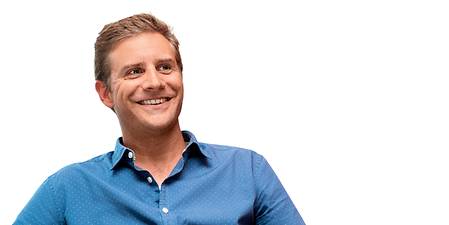 HAMILTON BONADUZ AG
FACTS
Founded in Bonaduz, Switzerland, in 1966
3,000 employees worldwide
Production of robots, sensors and software for industry and research as well as intelligent ventilators
Hamilton Bonaduz AG
Via Crusch 8
7402 Bonaduz, Switzerland
www.hamiltoncompany.com