Sailing Team
Get to know the DMG MORI Sailing Team
Sailing Team
Kojiro Shiraishi
Charles Euverte
Corentine Lemonnier-Le Tuaud
Shota Kanda​​​​​​​
Simon Suzuki
Benoît Mariette
Thierry Duprey du Vorsent
Léo Gonin
Antonio Herrera
IMOCA 60 Skipper: Kojiro Shiraishi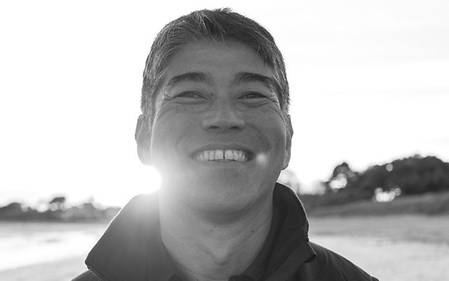 Kojiro might have become a professional golfer, a baseball player or an astronaut – if he hadn't heard of Yukoh Tada and his adventures. Tada was the first Japanese person to win a round the world sailing race. The then 17-year-old Kojiro from the coastal town of Kamakura did everything he could to get to know the experienced skipper in person. With success. As his mentor, Yukoh Tada went on to make a considerable contribution to Kojiro also devoting his heart and soul to sailing. At the age of 26 he sailed solo around the world and became the first Asian to reach the Vendée Globe finish line in 2021.
To mentally and physically prepare himself for a regatta, Kojiro practices the Japanese budo discipline Iaido – the art of drawing a sword – and meditates regularly. Time spent together in the team house in Lorient is also an important part of his preparation. Not least because of the cooking skills of his PR manager, Shota. 

Team manager and technical manager: Charles Euverte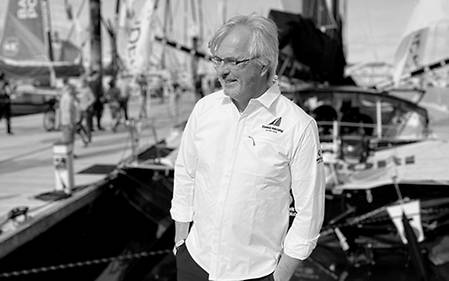 As a child, Charles enjoyed sailing with his parents. The current team manager of the DMG MORI Sailing Team later took the helm into his own hands – and occupied front rankings in various regattas. He has been supporting Kojiro since the Vendée Globe 2016-2017. When DMG MORI decided to form its own sailing team, he got on board immediately. His task: he is responsible for making sure the skipper and the DMG MORI Sailing Team achieve their goals.
As the technical manager, Charles was closely involved in establishing and developing "DMG MORI Global One". But his everyday life as a team manager consists of keeping a cool head even under intense pressure. Something that the pragmatist and yachting enthusiast Charles Euverte masters with aplomb. For him, every regatta is an adventure to be conquered together as a team. Because from his point of view "Global One" means exactly that – one team, one crew, one goal.  
Operational Manager: Corentine Lemonnier-Le Tuaud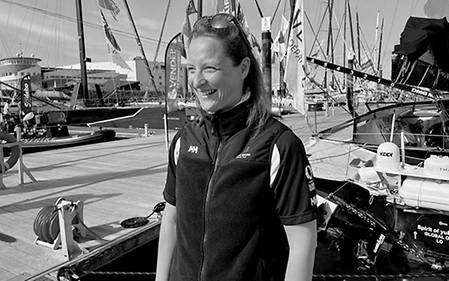 Corentine grew up trying to be never too far away from Lorient: a real child of Brittany, who has always had a deep connection to sailing. With a strong working experience in the sailing industry she was involved, among other things, in the organization of the Krys Ocean Race 2012, a transatlantic regatta on MOD70s from New York to Brest. 
She has been a member of the DMG MORI Sailing Team since 2020. As a real organizational talent, hand-in-hand with the team manager, Corentine keeps track of everything: whether it is event organization or day-to-day project management around the team and IMOCA. What fascinates her about sailing is the passionate enthusiasm of everyone involved. No two days in sailing life are the same and she always tries to get the best out of it – with a lot of commitment and always an open mind.
PR manager: Shota Kanda 
Shota sailed for the first time just a few years ago on Kojiro's powerful and racy IMOCA 60. An impressive experience for the Chamonix-born Japanese man. And a successful experience: He has been working for the skipper as a PR manager and translator since 2016. Shota Kanda will be a crucial link between the land and the vast ocean during the regattas: Communication will take place through him when Skipper Kojiro and the crew on land exchange information via satellite radio. 
Sailing is not the only sport that Shota is passionate about. Having been a professional golfer, golf is also very close to his heart. He thus has an even deeper insight into Kojiro's absolute dedication to sailing. He also admires the skipper's courage and greatly respects the way in which he handles the unexpected during races. As Kojiro's PR manager, Shota would like to communicate one thing above all: the amazing fascination of a race on high seas and the determination of the skipper.  
Assistant & Translations: Simon Suzuki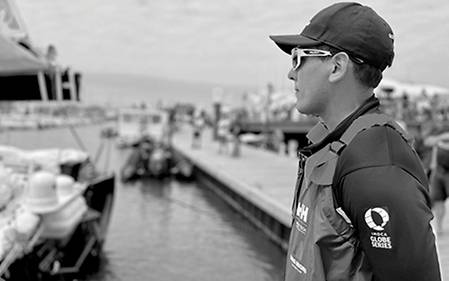 Simon had already sailing with his father in Japan and having actively participated in the Youth America's Cup Japanese team, can easily put himself in Kojiro's shoes. Simon joined Kojiro's team trough a former teammate in the youth team. He has been supporting him and the DMG MORI Sailing Team since then.
As assistant he handles the administrative tasks of day-to-day business. With a talent for languages – his repertoire includes Japanese, French and English – he is an indispensable link in everyday sailing life. Simon greatly values the international and multicultural composition of the DMG MORI Sailing Team.
Technical Director: Benoît Mariette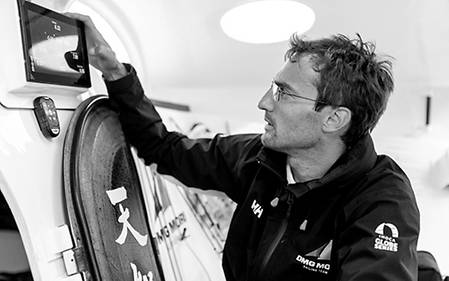 As technical director in the team, Benoît is primarily in charge of optimizing the boat and its performance. To do this, he works closely with sailmakers, weather experts as well as data analysts to find the best solution on board. He also sails on IMOCA during training sessions and evaluates the data afterwards. In all these aspects, Benoît always puts the skipper's requirements first - for him, it's all about delivering a highly competitive boat for Kojiro. 
Sports and nature are also important to him in his private life: outside the sailing season, he spends a lot of time in the Alps climbing and mountaineering.
IMOCA 60 Boat Captain: Thierry Duprey du Vorsent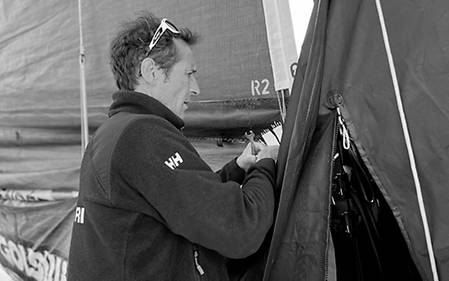 Thierry is the Boat Captain of the IMOCA 60 since 2022. The experienced sailor has mastered many tricky challenges on the oceans. Among other things, he took part in the Route du Rhum and competed in the Trophée Jules Verne as part of the Banque Populaire team.
An IMOCA 60 is highly demanding and fragile. This makes it all the more important for Thierry to work together as a team and make the right use of each individual's skills. "Global One" for him therefore means bringing together different cultural backgrounds and diverse professional experience and sharing knowledge between older and younger team members.
Boat builder and composites: Léo Gonin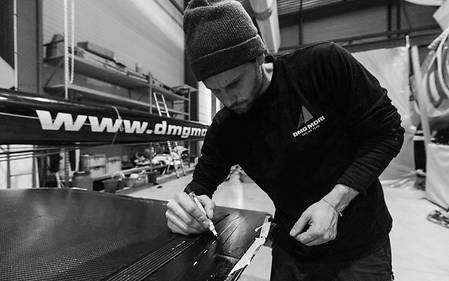 Léo is a boat builder and responsible for the composite structures of the yacht. Already at eight years old, he knew that this would be his dream job. What fascinates him about sailing is the symbiosis of the elements of wind and water: ultimately it is always about utilizing the forces of nature in the best way possible. He therefore always tinkers away at new solutions when designing carbon parts. 
He got to know Kojiro at the Vendée Globe 2016-2017. Léo was on board a spectator boat as the starting shot rang out for the regatta. He saw the Japanese skipper from close up before he set off on his adventure across the ocean. An emotional moment. Léo later found out about a vacant position on the team through a friend and immediately applied. Léo wears a talisman while Kojiro is racing across the sea in a regatta: a bracelet made of Dyneema rope, like that found on the yacht – he only takes it off after Kojiro has returned.  
Rigger: Antonio Herrera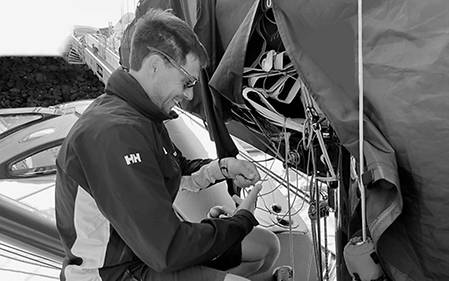 Born in Italy, Antonio lived in Argentina for a long time before joining the DMG MORI Sailing Team in 2022. He sailed on an Optimist dinghy for the first time at the age of 13. Since then, he has valued in particular the feeling of being connected with nature. The passion for sailing drives him.
Climbing is his favorite hobby alongside sailing – preferably in places that can only be reached by boat.
Sailing Academy
Laure Galley
Federico Sampei
Hajime Kokumai
Alexandre Demange
Skipper Trainee: Laure Galley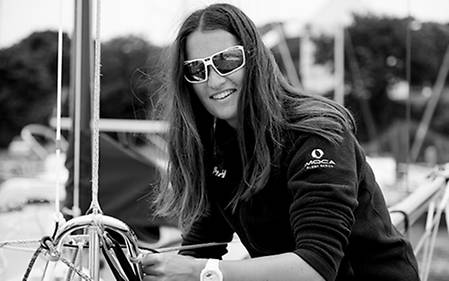 The Frenchwoman shares a long passion with sailing. After completing her engineering studies in mechanical engineering and design at the Technical University of Belfort-Montbéliard, Laure worked as a boat builder when she joined the team in 2022. She brings a strong technical know-how to the team. Laure is a team player with a lot of enthusiasm for innovation, state-of-the-art technology and boat building in competitive sailing. She has experience in both Inshore and Offshore Sailing. As a Skipper Trainee, she has the opportunity to further develop her skills.
Skipper Trainee: Federico Sampei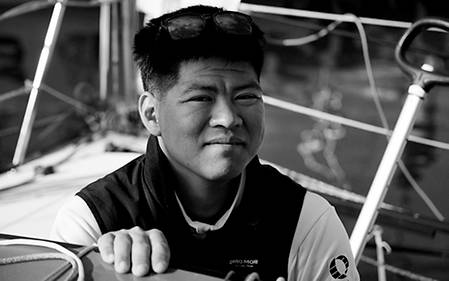 Federico has been with the DMG MORI Sailing Team since its inception in 2018. In the team, the young Japanese sailor looks after all on-board aspects of the IMOCA 60, except for the electronics. He was also Kojiro's on-water training partner in preparation for the Vendée Globe 2020.
Federico's very first time on a yacht was when test sailing for the 35th America's Cup in the Japanese Softbank team. Sailing has become a part of his life ever since then. As a skipper trainee, he comes one step closer to his dream of sailing around the world.
Co-Skipper Trainee: Hajime Kokumai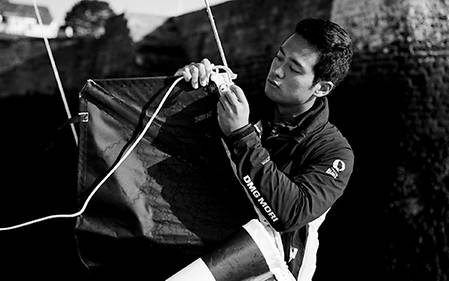 Hajime represented Japan in the "Finn" Olympic class as a member of the Japanese National sailing team from 2018 to 2020. Before that, he studied International Culture and Sports Science at Hosei University in Tokyo.
He has been working for the DMG MORI Sailing Team since June 2021 and has accompanied the IMOCA 60 during the Japan Tour. A quick grasp, affinity for technology and his experience from his Tokyo 2020 Olympic campaign set him apart. Hajime is co-skipper trainee and works closely with the technical team.
Co-Skipper Trainee: Alexandre Demange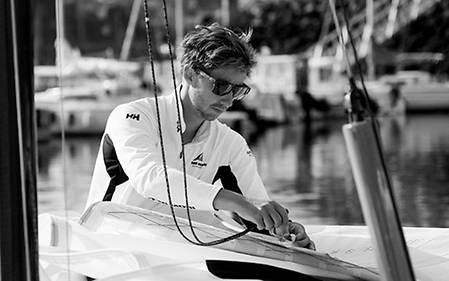 Alexandre holds a master's degree in engineering at EIGSI in La Rochelle. Working in the field of ocean racing has always been his goal. Therefore, his education covers a wide range of specialization, from mechanical design to electronics and digital simulation. He skillfully combines engineering knowledge and his passion for sailing. Alexandre has been a high-level sportsman for eight years, with French championship titles (420 and 470) and numerous international podium positions. He joined the team as Co-Skipper of Laure.