CELOS Machine & Manufacturing
Integrated digitization of the DMG MORI machines & the shop floor   

CELOS was developed by DMG MORI in 2013 and supports DMG MORI customers in integrated digitization. Center of the "CELOS Machine" is the APP-based user interface, which enables access to all production-relevant information via the control system. Under the keyword "CELOS Manufacturing", a total of 27 CELOS APPs allows optimal preparation as well as fast and consistent processing of production orders.  
CELOS is available for DMG MORI machines with controls from Siemens, Heidenhain and MAPPs. The supplementary CELOS PC-Version also enables consistently digitized processes from work preparation to the DMG MORI machine with CELOS. 
CELOS UPDATE
With the latest CELOS version, customers for the first time have the option of integrating all existing systems directly into CELOS at the machine (Application Connector). With the new job import function of the Job Manager, orders can be transferred completely automatically from the existing MES or ERP directly into CELOS.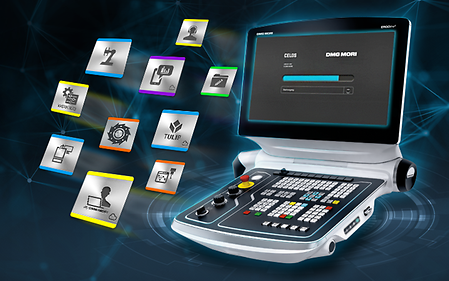 Highlights
Update possible from any existing CELOS version since 2013 

PLC independent & without data loss 

New APPs since 2019: Application Connector, job import function in the Job Manager, TULIP Player, optimized Messenger, my DMG MORI, Power Probe for Renishaw probes (optional APP) 
Get informed about the latest CELOS Update: 
DMG MORI Digital GmbH
Phone: +49 8363 89 5100
support.softwaresolutions@dmgmori.com
DIGITAL MANUFACTURING PACKAGE
DMG MORI offers existing customers the Digital Manufacturing Package for simple and fast entry into digitization with five coordinated products. 

Highlights
1. DMG MORI Connectivity 
Networking of DMG MORI machines & selected 3rd-party products 
2. CELOS 
PLC independent update to the latest CELOS version 
3. Messenger 
Current status of connected machines at a glance 
4. my DMG MORI – Customer Portal 
Continuous service optimization for DMG MORI machines 
5. NETservice 
Direct remote communication with the DMG MORI Service 
CELOS – REFERENCES 
 CELOS – VIDEOS