Integrated Digitization
FAMOT DIGITAL - CONTINUOUS DIGITIZATION OF THE VALUE CREATION CHAIN

A PORTRAIT OF ADAMOS: MECHANICAL ENGINEERING SHAPES DIGITALIZATION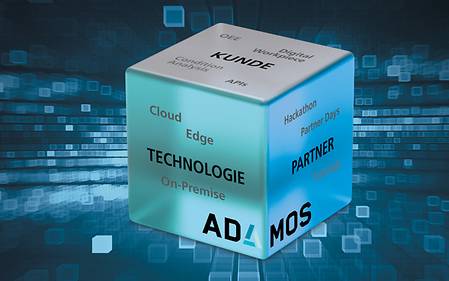 ADAMOS is the strategic alliance in the mechanical and plant engineering sector for the futuristic topics of Industry 4.0 and the Industrial Internet of Things (IIoT). The aim is to bundle the know-how of mechanical engineering, production and information technology. Together the partners intend to master the digital challenges and to develop IIoT solutions and products that are as collaborative as they are customer-oriented.

ADAMOS: THE ONLY ALTERNATIVE AND MANUFACTURER-INDEPENDENT
The Digital Summit of the German Government that took place in Nuremburg at the beginning of December 2018 once again underlined how important the Internet of Things is for industrial development and the future significance of platforms, especially for medium-sized enterprises. And ADAMOS GmbH was right in the middle of all the action.

ADAMOS presented itself among other things within the framework of a panel discussion on "Platforms and Artificial Intelligence". The Managing Director of ADAMOS, Dr. Marco Link, stressed the collaborative approach of the ADAMOS digitalization initiative "by mechanical engineers for mechanical engineers".
The "collaborative mindset" was firmly embedded in the DNA of the enterprise at its foundation a year ago, he stressed. He also emphasized that ADAMOS is far more than just a technological platform. On the contrary, ADAMOS keeps its customers constantly in mind and provides holistic support for their digital transformation.
Interdisciplinary approach with all ADAMOS stakeholders and their customers
"The digitalization of production can only be achieved on an interdisciplinary and customer-focused basis with all stakeholders", believes Christian Thönes, Chairman of the Board of DMG MORI AKTIENGESELLSCHAFT and one of the founding members of ADAMOS.
As an example for DMG MORI, he mentions the service platform WERKBLiQ that will be available as a fully-integrated solution on the ADAMOS IIoT platform as of February. And it will be "manufacturer-independent for all ADAMOS stakeholders and their customers worldwide as far away as China", he stresses.

CO-INNOVATION IN ITS MOST CREATIVE FORM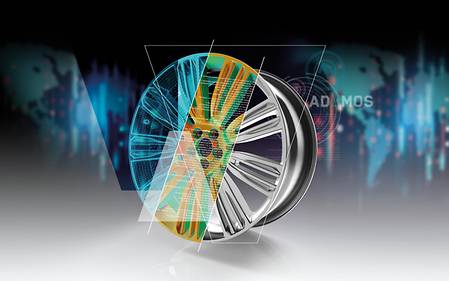 HIGHLIGHTS
The "Digital Workpiece" collates data on a specific workpiece from different machines across different production steps. The idea for this co-innovation derives from an ADAMOS Hackathon.
Overview of all workpieces produced on selected machines
Detailed view of selected workpieces with the corresponding information across all machines and process steps
Extensive API for reuse by ADAMOS partners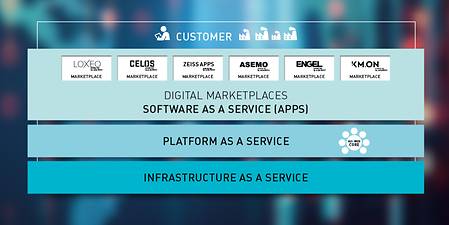 THE ADAMOS IIoT PLATFORM: SCALABLE, OPEN, LEADING EDGE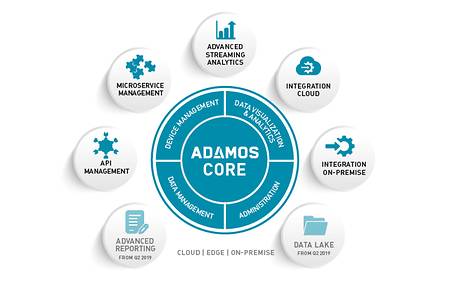 IIoT platforms provide the technical foundation for digital products and business models. They are the basis for linking millions of different machines, systems and equipment. The data gained in this way can be recorded, visualized and monitored via the platforms and can influence their process behavior. ADAMOS offers an open and manufacturer-independent IIoT platform for the processing of data and creation of digital applications.

ADAMOS IIoT platform
Modules with extensive functionality that can be used individually
Seamless integration of the modules for fast and simple application development
Continuous expansion of the modules
Manufacturer-independent and global, as far away as China
Dr. Tim Busse, Managing Director of ADAMOS as well as Head of the DMG MORI subsidiary WERKBLiQ GmbH, takes the opportunity to point out other partner- and customer-oriented ADAMOS attributes, such as the acceleration of innovation through cross-sector exchange of knowledge. He mentions the co-innovation project "DIGITAL WORKPIECE" in ADAMOS
as a prime example. This enables the monitoring and documentation of all relevant workpiece information across all machines throughout the entire production process. Other convincing ADAMOS partner references for customer-focused applications include "ECOSCREEN EQUIPMENT ANALYTICS" from DÜRR, "FACTORY CHAT" from ASM and diverse solutions from KM.ON Ecosystems, which belongs to the KARL MAYER Group.

ADAMOS AT A GLANCE
ADAMOS:  Collaborative digitalization initiative by mechanical engineers for mechanical engineers
ADAMOS partner network: Acceleration of innovation through cross-sector exchange of knowledge
ADAMOS IIoT platform: Extensive range of functions for the efficient creation of digital applications
Applications: Tailor-made for the mechanical engineering sector; individual and joint development for related problems
INTERVIEW – CELOS CONNECTIVITY
CONNECTIVITY AS THE PREREQUISITE FOR THE INDUSTRIAL INTERNET
It became apparent last year that there is no alternative to digitalization, including for the machine tool manufacturing sector and its customers. We spoke about the next 12 months in an interview with Tommy Kuhn, the Managing Director of DMG MORI Software Solutions GmbH.
Dr. Kuhn, how would you assess 2018?
Digitalization has gained enormously in momentum. 2018 was most certainly felt by many to be the fastest year ever. The discussion about the pros and cons has become more objective when you leave all the hype aside.
Digitalization is understood across the board as a continuous and above all a highly individualised transformation process – with far-reaching interactions beyond the company's boundaries.
What does that mean exactly?
It means firstly that every company must design and accelerate its digital transformation in a way that is beneficial for its own company and its corporate aims. Digital applications for large companies with hundreds of machines and employees are quite different from applications suitable for small and medium-sized enterprises. But it also means that every company will successively become an interactive part of a collaborative, value-adding network of products, services and data as a result of digitalization – with connectivity acting as the "eligibility to play" for participation in the Industrial Internet.
How does DMG MORI support its customers in the digitalization environment?
Keeping a balance between the traditional and the modern is important for us as a machine tool manufacturer. The name DMG MORI will continue to embody perfect manufacturing equipment in the field of metal cutting and advanced technologies such as 3D printing.
However, our customers can expect the same high quality from us when it comes to holistic and extensive support of their digitalization processes. 
What do you understand by "holistic" and "extensive"?
Firstly, as a bi-directional machine interface our IoTconnector plays a strategic role on the path to the digital era, one whose importance reaches far beyond the shop floor. Where the machine is concerned, we use it to transfer statuses and countless sensor data, analyze these and based on the knowledge gained, progressively optimize the process – already partly adaptively in real-time.
With regard to the interaction between machine and tool, we know in a networked production environment which tools are located where, where tools are needed next and what the actual status of the tool is. This gives the customer all the information he needs for perfect capacity planning and tool logistics. 
Looking beyond the machines and tools, with digital value creation there is an increasing tendency to focus on downstream processes – through to perfect orchestration of people, services and data in a digital factory and beyond into digital value-adding networks.
So there is no networking or connectivity? 
Exactly. Every application level has its own connectivity requirements. Level 1, for example, involves remote support in the event of a service issue. Pictures and video streams are shared and the customer receives the support of an off-site expert quickly. This minimizes downtime.
Level 2 is for integration. In this case, files are shared between software systems and machines – such as the transmission of NC codes from CAM systems to machine controls. This reduces manual set-up times and accelerates process cycles.
Level 3 is for automation. We record basic machine statuses from the control, i. e. the internal workings of the machine, at one-second intervals. Data planning systems, maintenance systems and monitoring solutions alone can significantly boost the utilization of the machine, respond immediately to unscheduled downtimes and create transparency for all manufacturing operations at a central location. Things get significantly more complex in levels 4 and 5. This is where we begin to call up more sensor and job data from the machine every 100 down to 3 milliseconds.

With the corresponding analysis software, this enables a large number of predictions to be made about machine statuses, so the customer can respond to unscheduled downtime even before it happens and thus prevent it, for example, or can measure a tool and adjust it adaptively while a process is running.
What should be the first step towards digitalization?
Important for getting started are a selfcritical analysis of the current status of digital maturity and step-by-step planning with realistic targets. Monitoring of machine performance is generally a good start with high utility because the collected information enables fast optimization of planning and maintenance processes.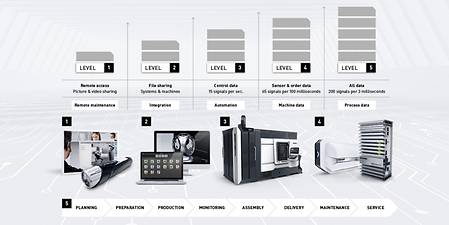 FAMOT GRAND OPENING WITH END-TO-END DIGITAL ADDED VALUE
Following an investment of more than 60 million Euros, DMG has expanded and sustainably modernized the traditional Polish plant in Pleszew, which was founded in 1877 and now boasts a total area of 50,000 m². The visitors invited to the Grand Opening ceremony between October 9 to 12, 2018 were shown around the impressive FAMOT digital factory and the new assembly hall, which has capacity for building more than 2,000 machines annually in the CLX, CMX V and CMX U series. 
The FAMOT digital factory is the result of an intensive collaboration between the three DMG MORI subsidiaries ISTOS, DMG MORI Software Solutions and WERKBLiQ. The plant in Poland is impressive proof of the DMG MORI claim to be a customeroriented partner and holistic pioneer of digital transformation. The digital modernization at FAMOT encompasses all levels of the added value chain. Networking with the DMG MORI IT infrastructure with regard to the order management, supply chain and customer relationship functions was a particularly decisive factor. No less challenging was the end-to-end digitization of all internal processes and systems – through to the integration of manual processes, in assembly for example. These two "main topics" were mastered with flying colors. A key element of the successful implementation is the so-called "integration layer" from ISTOS. This open interaction platform enables the integration of different plantspecific applications such as ERP, HR and tool management. It also includes production and machine data acquisition software, central status visualization as well as legacy data management and personnel resource planning. The web-based maintenance platform WERKBLiQ from the DMG MORI subsidiary of the same name also operates via the "integration layer".

END-TO-END-DIGITIZATION MADE BY DMG MORI
The very heart of the digital transformation at FAMOT, however, is ISTOS PLANNING SOLUTIONS with the modules PRODUCTION PLANNING, PRODUCTION FEEDBACK and PRODUCTION COCKPIT. This productive "triad" enables the end-to-end automation and optimization of all production planning processes, from detailed order scheduling and personnel resource planning right through to the visualization of productionrelevant information in the graphical command station. As a fully integrated production planning and control system with a direct connection to all machines and work stations, ISTOS PLANNING SOLUTIONS enables extended planning and scheduling, direct feedback from the machine or from the work station and the monitoring of machine and process-relevant data in real time. This allows FAMOT to visualize transparently production progress and to respond to changes immediately where necessary. 
The end-to-end digitization of FAMOT together with the expansion of machining – which includes two DMU 600 P machines with double tables and a new XXL assembly hall – create a sound basis for the planned growth. By 2020, plant capacity will include 2,000 of FAMOT's own machine tools and an additional 2,000 prefabricated machine frames and other components and part sets for another 3,000 machine tools to be produced for various sister companies within the group.