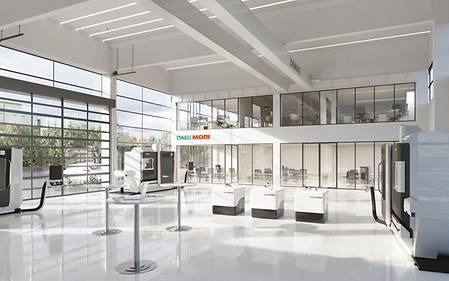 We would like to cordially invite you to the Grand Opening of our new technology center from August 27th to 30th 2019 in Brno, where DMG MORI is emphasizing the ambitions to strengthen its good relationship to local customers.
We will be presenting the latest trends and innovations from the future-orientated fields Digitization – covering workflows from the stage of planning and preparation right through the manufacturing and service, integrated automation solutions maximizing your productivity as well as ADDITIVE MANUFACTURING.
Six machines in total, among them the CLX 450 and the NHX 4000 3rd Generation will be exhibited during the Grand Opening giving profound insight into DMG MORI's portfolio of modern manufacturing technologies. 
We look forward to welcoming you at our technology center!
Your DMG MORI Team

HIGHLIGHTS

DMG MORI AUTOMATION

NLX 2500 with GX5
CTX beta 800 TC with Robo2Go
CMX 50 U with PH 150

INTEGRATED DIGITIZATION

Planning – Preparation – Production – Monitoring – Service

ADDITIVE MANUFACTURING

Two process chains for Selective
Laser Melting

TECHNOLOGY SEMINARS

28th of August from 10:00 a.m.: Additive Manufacturing
29th of August from 10:00 a.m.: Integrated Digitization / from 1:00 p.m.: Sandvik Coromant
30th of August from 10:00 a.m.: DMG MORI Automation
LOCATION:
DMG MORI Czech s.r.o.
Ořechovská 1a (vedle OC Futurum)
619 00 Brno - Jih, CZ

OPENING HOURS:
August 27 - 30, 2019
Tue. - Fri.: 9:00 a.m. - 5:00 p.m.

CONTACT PERSON
Tereza Prochova
Tel.: +420 606 670 518
tereza.prochova@dmgmori.com