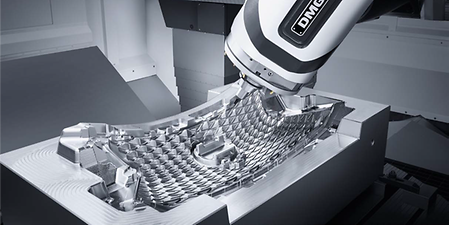 With more than 50 years of experience, die and mold is one of the most important branches of DMG MORI.
By involving our customers at an early stage, we together develop individual and holistic complete solutions for a digitized production.
Experts from the industry will present their experiences in digitization, reorganisation and the value chain in die and mold. Live demonstrations on DMG MORI machining centers illustrate the increase in productivity and optimization of process reliability.
Take the opportunity to get in touch with our experts and exchange experiences directly.
We are looking forward to your participation.

Thursday, 27th June 2019 (Day 1)

Until 12:00 a.m.

Arrival


12:30 a.m. – 2:30 p.m.

Presentations:

The Future of Production in the Industry 4.0 – era
Guest Speakers:
Prof. Dr. - Ing. Gansauge, TH Deggendorf
Dr. Thommy Kuhn, Managing Director DMG MORI Software Solutions
Dr. Kristian Arntz, Head of Research WBA Frauhofer IPT


3:00 p.m. – 6:15 p.m.


LIVE Machine Demonstrations:
Workpiece- and process-automation as well as quality assurance of the tooling and machine behavior through exclusive technology cycles.

from 7:00 p.m.


Dinner / Bar & Networking
Friday, 28th June 2019 (Day 2)

8:50 a.m. – 11:00 a.m.


Presentations:
New opportunities through reorganization of toolmaking
Guest Speakers:
Mr. Paul DiGiovanni, CEO Integrity Tool and Mold
Mr. Sato, Deputy Manager Toolmaking TOYODA GOSEI
Mr. Ralph Schramme, Head of Toolmaking Hirschvogel Automotive

11:00 a.m. – 1:15 p.m.

LIVE Machine Demonstrations:
Possibilities of a productivity increase through selected
DMG MORI-products


1:15 p.m. – 3:30 p.m.

Factory tour (optional)

CONTACT PERSON
Ms. Reuter-Gaier
Phone: +49 8363 89 6996
martina.reuter-gaier@dmgmori.com

LOCATION
DECKEL MAHO Pfronten GmbH
DECKEL-MAHO Straße 1
87459 Pfronten, Germany